How to Talk Before County Council and How I Structure My Speeches To My Local County Council
Vicki Simons, a volunteer with Palmetto State Watch, addresses how she structures her speeches before speaking publicly before the Aiken County Council in Aiken County, SC.
My experience has been with the Aiken County Council, in Aiken County, South Carolina.
Your experience and the requirements of your County Council may be different, so please adjust accordingly.
The Aiken County Council's Regular Session agendas have an item called the "Informal Meeting of the Whole."
This is a time when members of the audience may come forward and speak before Council within certain limitations.
Topic: Not previously been discussed in the meeting.
Address: The County Council Chairman
State: Your name and address
Time: Limit remarks/comments to 3 minutes
Structure of My Speeches, to Talk to County Council
I structure my speeches like this:
– Open with a greeting;
– Mention the Council Chairman's last name;
– Mention the other Council members as a group;
– Introduce myself
"My name is ___";
– State in whose district I live;
– Ask a question that I then:
– address various aspects;
and/or
– answer from my own perspective;
Sometimes I will ask other questions.
I will quote various people, documents, or websites.
When I make a quote:
– I say, "quote,"
– give the quotation, and
– end with "end quote."
References, Written Copies, and Footer Information
I always reference my source material — in written form — at the end of my speeches, so that if there are any questions, the Council members can look them up.
I always provide a written copy of my speech to members of the Council so that they can follow along with me as I speak.
I give my hard copies to someone on staff who will then distribute them to the Council members.
In the footer on the left, I provide a brief description of my speech with that day's date.
In the footer on the right, I list:
– each page's number;
– "of"; and
– the total number of pages
(so that they will know whether or not my speech is intact).
Call to Action in Talk to County Council
Toward the end of my speech, I always give a call to action, whether I'm:
– asking a question,
– asking them to do something,
– reminding them of something,
– telling them that they must do something to maintain freedom and liberty, or
– making a request of some kind.
It's not just education that I'm providing, I am asking the Council to do something:
– perhaps something to do locally;
– perhaps something that needs to be sent to the state level;
– perhaps something that needs to be sent to the federal level.
At the end of my speech, I always ask:
"Do you have any questions?"
Now It's Your Turn
I hope you get in the habit of attending your local county council meetings or other local meetings where elected officials are making decisions that affect you.
Different entities may do things differently than I've described in this video.
Please feel free to speak before groups of elected officials who represent you, on topics of freedom and liberty.
Also, note that I always video record myself making a speech in public.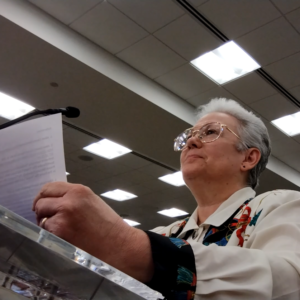 Starting around October 2022, I began the habit of recording a second video of myself — after the meeting — in which I describe a summary what I wrote down and observed during the meeting.
I also write down notes during the meetings — for example, who voted which way — so that I can document my observations.
Need Encouragement to Attend and Speak Out?
What "right" do we have to attend meetings of our elected officials and speak before them?
Please remember this part of
The Declaration of Independence:
"We hold these truths to be self-evident, that all men are created equal, that they are endowed by their Creator with certain unalienable Rights, that among these are Life, Liberty and the pursuit of Happiness.–That to secure these rights, Governments are instituted among Men, deriving their just powers from the consent of the governed,"
We are the governed!
Also,
The Constitution of the State of South Carolina says in
Article I, § 1. Political power in people.
All political power is vested in and derived from the people only, therefore, they have the right at all times to modify their form of government.
https://www.scstatehouse.gov/scconstitution/SCConstitution.pdf
We are the people!
Need more information about getting ready to talk to County Council?
Reach out and ask or go to…